VOCALOID, which uses synthetic singing voice technology developed by Yamaha, has continued to advance since it was first released in 2003 and is now on version 5. Other companies also sell voicebanks for VOCALOID. A genre has been established for music sung by virtual singers created using singing voice synthesis technologies. Called "Vocalo" in Japanese, numerous tracks of this now beloved genre are uploaded every day. "Vocalo Producers with VOCALOID" is a series of special interviews that delves into how the producers who sustain Vocalo culture first encountered the VOCALOID singing voice synthesis technology developed by Yamaha and what their relationships with it are now.
This time we spoke with syudou who has released hit songs such as "Bitter Choco Decoration" and "Call Boy." Recently, he also worked on writing the lyrics and music for "Usseewa" performed by Ado.
Profile of syudou
Since becoming active on the Internet in 2012, he has released numerous hits, including "Jama," "Bitter Choco Decoration," "Call Boy" and "Cute Girlfriend." He has written musical compositions for singers, VTubers and many other artists. "Usseewa" provided to Ado in October 2020 reached number one on various charts and has exceeded 200 million plays on YouTube.He has already been ranked on the Billboard Chart as a composer and lyricist, reaching as high as sixth place.
In March 2021, he also became active as a singer-songwriter, releasing "Hebereke Junkie," his first vocal track with his own singing. With "Gamble," released in July, he became responsible for the opening music for the "Tsukimichi: Moonlit Fantasy" TV anime program.
"Bakusho," another song that he sings himself has over 13 million plays on YouTube. With over 550,000 YouTube subscribers, his total video views exceed 160 million. Armed with a unique dark worldview, he is expanding his fan base.
Official Website / Twitter / Instagram / TikTok
From anime and light novels to VOCALOID and Hatsune Miku
Y: Where did you learn of VOCALOID?
S: SPACE SHOWER TV had a program called "Supesya-Boys" that had a feature on Hatsune Miku soon after it went on sale. Hatsune Miku was also on the show "Akko ni omakase!" - Famous TV program in Japan - I thought, "What is this?" "That character sure is cute." So, I searched for her and went to the Niconico video sharing site to watch.
Y: So, your first encounter was through TV. Tell us about songs that you heard on Niconico in those early days.
S: I think it was a Hatsune Miku cover of Maaya Sakamoto's "Platinum." In the early days, there were few original songs. There were a lot of covers. Two or three months later original songs started increasing. We cannot forget "Melt."
There was a feeling that something that did not exist elsewhere had been found, including the quality of the song. Everybody in my family liked music, but it was like I found music that no one else knew. I might have felt a little superior. There are many others… "Electric Angel." Then there was that song, "The melody of this world…My…" (singing)… It was "Packaged"!
Y: Didn't you like drawing, manga and things like that even before you encountered Hatsune Miku?
S: I was a sixth grader in elementary school when Hatsune Miku came out. I was a typical nerd. There was a light novel called "Kamisama Kazoku" (God Family) with a character named Tenko that I liked. I also really liked Sergeant Keroro and things like that. I memorized entire comics (laughs).
Y: So, you went from Sergeant Keroro to VOCALOID and Hatsune Miku.
S: The image of tapping away at the computer in a room surrounded by things I liked seemed cool. Then, a digital diva with the best appearance appeared in the middle of this. It was like, I finally met you. For me, the splendid visual with twin tails of blue hair was the best.
Y: What was you impression when you first heard a VOCALOID voice?
S: Well even though I thought it was robotic, I felt it had something cute, like tsundere.* There is the character Yuki Nagato in "The Melancholy of Haruhi Suzumiya" who seems robotic and speaks without emotion. It was something like a similar cuteness. At the beginning of that song "Platinum" there is a lyric, "I'm a dreamer," that Hatsune Miku cannot sing properly. It's like "Ama deemer." That was really cute.
*a cold personality that could suddenly become affectionate
Y: It was not that it felt realistic, rather it was being robotic that was good.
S: Robotic is actually good.
Hatsune Miku came along with me for the song "Jama"
Y: As a listener, what made you decide to buy VOCALOID and become a Vocaloid producer?
S: If there was one clear motive, it was Hachi-san (Kenshi Yonezu). You can do something outstanding like this using VOCALOID. That's so amazing! I wanted to try making songs so much that I could not contain myself. I started thinking that I wanted to understand what kind of feelings this person was having when making songs. This was the latter half of middle school. From then until I was a high school student, I gradually acquired the equipment and other things I needed.
I put a DAW and other applications that were free on to my family computer to get a set up together, but I begged my parents for VOCALOID and they bought me VOCALOID2. Above all, I wanted to use Hatsune Miku. I was really in love with Hatsune Miku.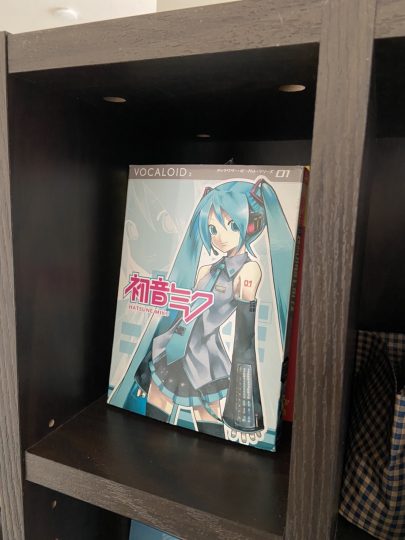 Y: Please tell us if you have any stories about difficulties, for example, during your early productions.
S: I bought Hatsune Miku before I even knew what a DAW was, so even though I was able to get her to sing about right, I did not understand mixing at all. Since I was mixing using free audio editing software, I could only deal with a single sound, so combining the backing music and the VOCALOID sounds was hard.
At that time, when I heard, "If you buy a DAW, you will be able to layer sounds almost without limit," I was like "Really!?" (Laughs.) Without knowing about the DAW itself, I finally got Cubase and VOCALOID4 when I entered college. I have been using Cubase ever since then.
Y: Tell us about your impressions the first time you output the voice of Hatsune Miku using VOCALOID2.
S: I was so moved. With a click, a voice was singing "ah." I thought, "Amazing!" Then, pronunciation became better with each version upgrade. I think it also became possible to put phrases in automatically, and the singing became pretty decent even without training.*
To begin with, I think it is like obeying the voice of a woman you love. It is not something you nitpick about.
Y: When you create a song, do you compose imagining making a song that suits Hatsune Miku? Or do you imagine getting Hatsune Miku to sing the song you made?
S: Since her voice is cute, I tried making cute songs, idol-type songs, but I did not get anywhere. "Jama" is the song where I thought I would try a completely different direction.
I did not think "Jama" suited Hatsune Miku, but I really put my own heart into the song. In the end, that resulted in the reaction that it suited the robotic sound of Hatsune Miku. My impression was that if I was honest with myself, Hatsune Miku would come along with me. Maybe not making it focused on Miku was also the right choice for Miku.
VOCALOID changed my entire life
Y: Please tell us about something that has inspired you most since becoming involved in Vocalo culture.
S: I have actually been able to meet people who created songs that I listened to when I was in elementary and middle school. I was completely inspired when I met people like DECO*27-san, PinocchioP-san and Neru-san. As we met many times and were able to have conversations that were between musicians, I thought, "This makes me so happy."
Y: What was your impression when people started singing your songs and creating derivative works?
S: When I first heard them, I had feelings of embarrassment and unease. I am 120% happy with derivative works. I think people cannot make derivative works unless they are really passionate about them, so they make me truly happy. When my video views were not increasing much, receiving words of praise in comments and people making derivative works really motivated me.
Y: Please tell us what kind of impact that encountering VOCALOID and Vocalo culture had on your life.
S: Even if I had listened to music, I probably would not have made it.
I thought even I could do it with VOCALOID. I was in a band in high school that did not go well. On the other hand, it seemed that using VOCALOID I could make music with a single computer. I might have been in another band, but I think it would have been over after university.
In my fourth year of university, "Jama" started to have some success, but I still sought a salaried job. After that, many more people listened to "Bitter Choco Decoration," so I resigned from the company and told my parents. I think that they were a little worried, but they understood and now we are even closer. You could say Hatsune Miku and VOCALOID provided the seeds for my entire life now. It changed everything for me.
Y: I do not think it is necessary to even ask (laughs), but please tell me your favorite voicebank.
S: The voicebank I like is Hatsune Miku (smiles). I like the Dark version.
I like everything about Miku, but if I had to point out something in particular, I think Hatsune Miku is well-balanced. Something like you can bring her into any genre. I have written many types of songs and I have never reached a point when I thought that I had to change because it did not fit.
Y: So, if I asked for your voicebank recommendation, would you recommend Hatsune Miku?
S: I would recommend Hatsune Miku, but you must be prepared to remain married for life (laughs). I think people should pick and use voices and characters that they like. Instead of choosing whether voices fit or not, I think this way people become more emotionally invested.
Y: Please give some advice for people who want to become Vocalo producers or who are interested in VOCALOID.
S: If I give one piece of advice, it is to have fun while doing it.
I did not start out expecting my life to change with VOCALOID and Hatsune Miku. I think the important thing is that you like the character, you enjoy music and otherwise value the basic things. Right now, I only do music, but I also enjoyed the time when I was a Vocalo producer while I was working at a company. I think life becomes more fulfilling that way.
Y: I think that is really useful for people who want to take on the challenge of using VOCALOID. Thank you very much for your time.
S: I apologize for rambling on. Thank you very much!
Article : SoundWorksK Marketing LLC.
---