VOCALOID, which uses synthetic singing voice technology developed by Yamaha, has continued to advance since it was first released in 2003 and is now on version 5. Other companies also sell voicebanks for VOCALOID. A genre has been established for music sung by virtual singers created using singing voice synthesis technologies. Called "Vocalo" in Japanese, numerous tracks of this now beloved genre are uploaded every day. "Vocalo Producers with VOCALOID" is a series of special interviews that delves into how the producers who sustain Vocalo culture first encountered the VOCALOID singing voice synthesis technology developed by Yamaha and what their relationships with it are now.

This time, we spoke with Ichinose LUPO, a Vocalo producer who has received attention for, among other things, winning a runner-up prize in the 2018 Magical Mirai Song Contest with his song "Bokura-Note" and the grand prize of the "Let's make it together! Music Contest" before the release of Project SEKAI with his song "alive."

Profile of Ichinose LUPO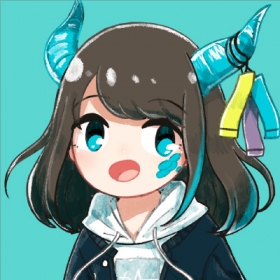 As a Vocalo producer, composer, lyricist and DJ, he has released electronic music using Kagamine Rin. He has been extremely active since his first upload in 2011, and his achievements include winning a runner-up prize in the Magical Mirai Song Contest and the grand prize of the "Let's make it together! Music Contest" before the release of Project SEKAI In 2021, he remained to the final selection in the "music-ru Creator Battle" segment of the "music-ru TV" show produced by TV Asahi and broadcast throughout Japan. The song "DiVE," which he created and co-wrote with Kayoko Kusano, was provided to FANTASTICS from EXILE TRIBE.
Shiina Mota introduced him to the world of VOCALOID
Y: Please tell us how you first learned about VOCALOID.
I: I first learned about it from a close friend that I knew since kindergarten. His name was Shiina Mota. We even went to the same Electone school starting when we were little. We went to different elementary schools, but we were at the same high school. We were eating lunch together when he suddenly came out to me as a Vocalo producer (slight smile).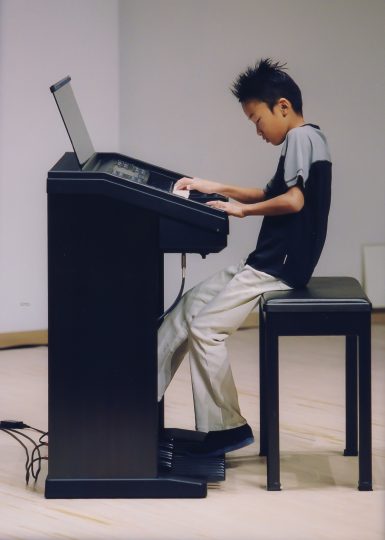 So, listening to his music was my first encounter with VOCALOID. The first one I heard was a song called "Sora no Sakana (Sky Fish)". I felt his sense, including the music video, was very artistic, and I thought it was super chill. Then, I thought, we go to the same music school, so I should also be able to make it! (Laughs.) When I said that I wanted to become a Vocalo producer too, he said, "First, you have to buy Hatsune Miku." After school, I went to an electronics shop and bought Hatsune Miku V2.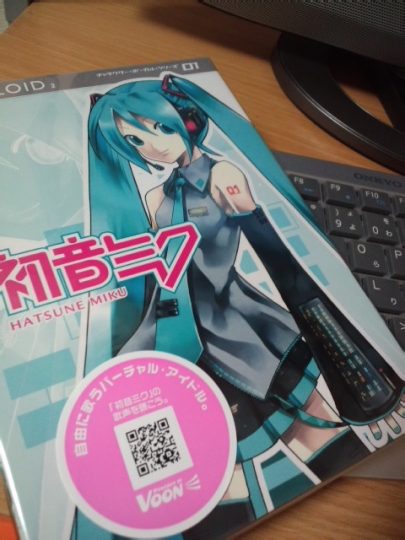 Y: Please tell us what was difficult about your first song.
I: The first song I uploaded was called "Paranoia." Adjusting the voice was difficult. Shiina Mota listened to the song for me, and I read interviews with Vocalo producers to learn about it. Finding a way to make my music sound artistic while expressing my individuality was difficult.
Y: About how long did it take to find it?

I: I think it took one or two years. I really want to delete them, but thinking about my songs from that time as lessons, I have left them all. I hope that they will be useful to a new generation of people.

Y: What kinds of music were you listening to when you first started to make songs with VOCALOID?

I: When I was in high school, Perfume, for example. After I decided to try to become a Vocalo producer, I started listening to DECO*27. And, I always listened to Shiina Mota's songs (faint smile). I have also liked Mr. Children since my first year in junior high school. It is not just Sakurai-san's singing voice, I also think that the music is propelled by melody. There is an album called "Supermarket Fantasy" that has an incredibly high level of completeness as an album. Even as a junior high school student I was moved and really captured by it. Even now, Mr. Children songs are deep inside my head, and I think that they have a huge influence on the songs that I make. Since Vocalo music is sung, I think that melody is very important. I guess you could say that is following a pop way of thinking. I think that this is the path of what people call Mikuno-pop.*
*Techno-pop (synth-pop) with Hatsune Miku.

Y: When I first heard your songs, even though they are electronic, they really sparkle, and my impression was that it is pop music. I think I now understand a little bit of the reason for that. I understand that Shiina Mota was a big influence, but were you active in music before meeting him?

I: When I was in junior high school, I entered the YEF* (then called the JEF), and I participated with an original Electone song that I made.

*Yamaha Electone Festival
With the goals of raising performance and musical abilities, Yamaha holds this festival as an opportunity to demonstrate the results of studying at Electone schools and to allow people to enjoy Electone performances.
https://jp.yamaha.com/products/contents/keyboards/electone_station/event_concert/yef/index.html

I learned composition from my Electone teacher. I think the Electone is the perfect instrument for learning composition. Even when I started composing on a computer, I used my Electone by connecting it through an MIDI interface to the computer. I thought it was probably my weapon of choice since I think it is a top class as a sound generator.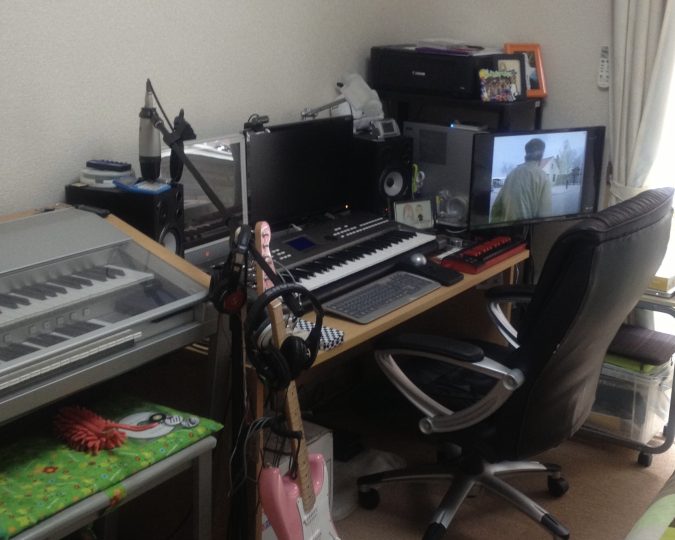 Y: Did you think anything like that you wanted to become famous as a Vocalo producer or as a composer?

I: Along with Electone, I was also in the school wind ensemble, and winning competitions was a goal, but I was not thinking about the future. I only began thinking about making a living with music after I became a Vocalo producer.

Y: You were also in a school wind ensemble! You really did a lot of musical activities. Does your experience with the school wind ensemble and Electone contribute to your Vocalo production activities now?

I: I played the tuba in the wind ensemble, and I think that my experience with that music was really useful in terms of composition.

Y: It seems like you would have arrangements with more live instrumentation, but your songs are electronic tracks. Was there something that led to you liking electronic music?

I: My songs were not electronic from the beginning. Around when I moved up to Tokyo, I heard a song by Kz (Livetune) and felt that the affinity of Miku and an orchestra were amazing. Then, I went to the Niconico Chokaigi. Kz DJ-ed and it was really great. When I saw that, I thought, "I want to perform here!" He DJ-ed in an electronic style and everyone was waiving pen lights to the music. Seeing that performance, I felt a goal. Then, I thought I had to make cool songs like those played in that performance, and that is where it started.

Note: Ichinose LUPO performed as a DJ at Cho Voca Nico 2022 supported by Tobu Top Tours during Niconico Chokaigi 2022! https://live.nicovideo.jp/watch/lv336039052
Producing for Kagamine Rin like an idol
Y: Please tell us if there is anything that you pay attention to in particular when creating Vocalo songs.

I: When preparing songs for human singers, I believe that composers think about the fans of the singers during song creation. I believe it is the same with Vocalo. Each character has its fans, so I think about them and focus on making songs that will reach them.

Y: The thing is, I imagine that a famous singer will sing the song. They are famous, but VOCALOIDs are not picky, so they will sing anything for us. So, keeping in mind the fans, I make songs adding my own personality. I think that is something that could not be done if it was a human singer.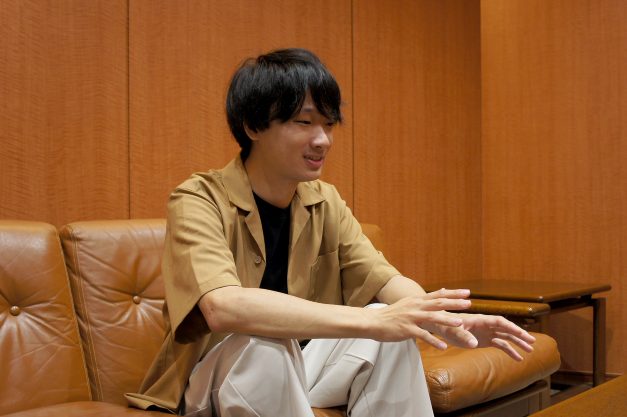 Y: Recently, you have also been providing musical compositions to human singers. What kinds of things are different between VOCALOID and human singers?

I: With a VOCALOID, I can decide the point when it is complete, and I can make changes forever. That is also difficult, but with a person, when they sing it, that inevitably becomes the point of completion in some sense. We meet at the recording, I give directions, and they sing it for me. I think that finishing that song in that place is really difficult.

Y: At first, you were using Hatsune Miku, but from some point you switched to Rin, right? What caused you to buy Kagamine Rin/Len?

I: I was using Hatsune Miku, and I started wanting to do something different from other people. There was a lot of electronic music with Hatsune Miku, but I thought there were not many electronic tracks using Rin/Len. So, I tried using Rin in a song called "Bokura-Note," which took a runner-up prize in the 2018 Magical Mirai Song Contest. Then people who like Rin started listening to it a lot, so I changed my orientation to working with Rin as a specialty. I also want to return the favor to people who like Rin, so I always make songs when I submit to contests, for example, with a strong push for Rin. Also with the Project SEKAI Music
Contest, I thought, for example, that Rin fans would be happy if my song would be used in a game.

Y: Do you not use Hatsune Miku anymore?

I: The times I want Miku to sing are when I want her to deliver the things that I myself want to say. It is like I have her sing the things hidden in my heart. The times I want Rin to sing, I imagine that I am producing for her as an idol.

Y: I imagine that you have used various voicebanks, but please tell us which one is your favorite.

I: As you probably expect, it's Kagamine Rin. She is like my partner that has helped me achieve what I wanted to do and reach my goals. I do not think that I could have made the songs "Bokura-Note" and "alive" without Kagamine Rin. I like Kagamine Rin as both a character and as a voicebank.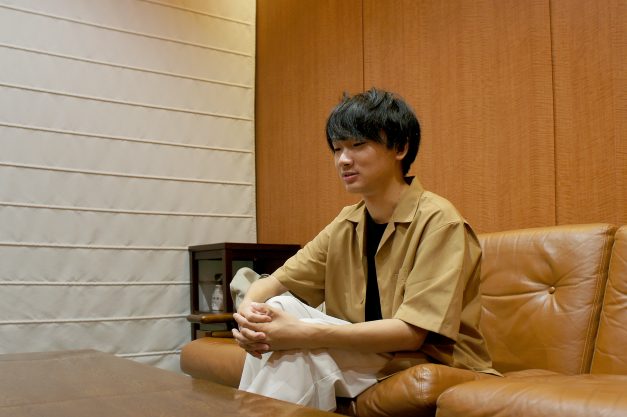 Y: Tell us what you think Rin's good points are?
I: She's powerful. She is so powerful you cannot even compare it with other Vocalo voices. Miku is a true virtual singer in both good and bad senses, but Rin has a little more character. I think there are melodies that suit Rin, and it is totally great when they fit. I feel that my melodies suit Rin.
Vocalo production will stay the main focus

Y: If there was no VOCALOID, would you be making songs now?

I: I probably would not be… Even if I continued with the Electone, when it was time to go to college, I would probably have quit and become oriented toward finding a job. Without Vocalo, I do not think I would have wanted as much to become a composer. Also, I think that no matter how much I make music for others, I will never quit as a Vocalo producer. I want to become a Vocalo producer like PinocchioP-san who does a variety of things but whose main focus is Vocalo.

Y: Speaking of doing a variety of things, I heard that you were involved in an activity called "Project Miku" at Senzoku Gakuen College of Music.

I: While I was in school, as part of my college research, I did this virtual live performance as a model for Magical Mirai. I asked the digital artist called SHU-san to model Miku and we had her move.
Music Design Live Electro 2016 「 Project Miku // toxicant / idiotic 」(Lyrics and music by Ritty)
https://youtu.be/uLYU_q64Bpo
Even after graduating, the school called me, and I was involved in a collaboration with Miku and an orchestra. Miku followed the tempo of the orchestra and danced, but it was pretty difficult to control the tempo feel, and I struggled with it.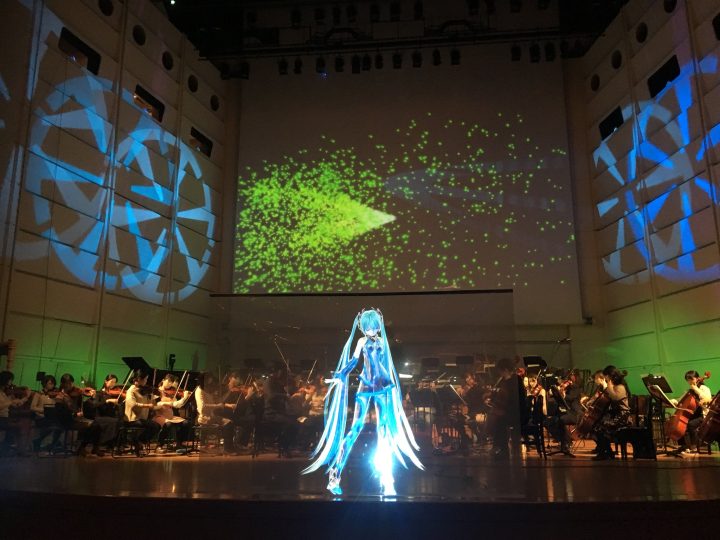 Y: That's amazing! I wish I had seen it live. Finally, please give some advice or message to people who want to become Vocalo producers.

I: Since making Vocolo songs always requires using a computer, that can be difficult and I think hitting walls is inevitable. Still, I hope that you will create songs and complete them without giving up. Then, when they are complete, I want you to share them online without fail. In this world we do not know what will happen when we share things. They could go viral, or they could get buried. But, someone will certainly listen to them. They definitely will not end with zero plays. I think that the reaction generated there will lead to the next thing.

Y: Because the thing you most think is bad might become popular.

I: That's right. Something that surprisingly becomes popular would never have had a chance if it was not shared. First of all, I want people to put out their work. Becoming discouraged before sharing something is really a waste.

Y: That is great advice. Thank you very much.

I: Yamaha has really done a lot for me. Thank you very much.
Article : SoundWorksK Marketing LLC.
---